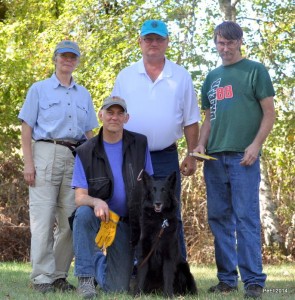 This morning Obsidian's Accipiter ("Sharpy") earned her Tracking Dog Urban (TDU) title at the test held in Monmouth, Oregon by the Luckiamute Tracking Club.   Sharpy kept her nose down and negotiated some complicated passages along the track. It wasn't until the last 3 yards, with the glove in sight, that I started to doubt whether we were going to pass.  Sharpy was proceeding very strongly on damp grass along the last leg of the track.  I saw the glove indicating the end of the track near the corner of a building ahead. As Sharpy approached the finish, she caught scent of a squirrel and shot around the corner, jerking herself hard when she got to the end of her lead.  The "self-correction" caused Sharpy to run back to me with her ears down and apologetic for chasing wildlife. To prove she had changed her ways,  she stayed at my side and refused to move toward the squirrel or the glove.  In spite of multiple commands to track, Sharpy stood fastened to my hip. I was in a terrible predicament.  The end of the track was 3 yards away and my dog wouldn't restart.  Just when I was about to give up hope, Sharpy caught a whiff of the glove and laid down where she was.  The judges recognized this as Sharpy's article indication from the previous articles we found on the track!  So they signaled to me that we had successfully finished the test.  I've had close calls in tracking tests, but never quite this close before.  The judges today were Curt Curtis and Judy Stromquist.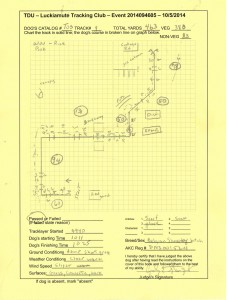 Rogue and Heart also were entered in today's test.  Rogue got into trouble midway down the track and we wandered off until we heard the whistle.  Heart made it down a difficult first leg that included two driveway crossings and quite  a lot of other non-vegetated surfaces.  I knew we had come to the first turn and held Heart patiently until she committed to a new direction…the wrong direction unfortunately.  Even though we failed, the judges let us finish the track.  Heart performed very nicely and was hardly distracted by a tractor that passed within a few feet of her or by the barking huskys lunging toward Heart at the end of their leads just as she approached the glove.  A very strong performance in spite of the fail.  Of five dogs in the test, only Sharpy passed.
The TDU is a relatively new AKC tracking test. The major specifications of the test are:
400-500 yards in length
The track is aged between 30-120 minutes
The track has 3-5 turns
10-30% of the track must be on non-vegetated surfaces
I believe that Sharpy may be only the second Belgian Sheepdog to have passed the TDU test.
The award photo is courtesy of Peggy Miller.