[slideshow_deploy id='1477']
Joan and I drove to the Belgian Sheepdog Club of America national specialty in Bozeman a couple weeks ago. We stopped at Spokane along the way where we met up for an Obsidian mini-reunion at a city park with Maggie, Blaede, Colt, Stacy, Brian and Luca. We had Heart, Rogue, Knife, and Lark along so I'm sure we made a quite a spectacle for the other park visitors.  One neighbor came over to find out what gives with all the black dogs and she stayed for a half hour just to enjoy the company of the Obsidians. A fun time at the park was had by all and delicious pizza was enjoyed by the humans (Thanks Brian and Stacy!). Maggie, Joan, our dogs, and I continued east as the sun set to the west.
We arrived at the Holiday Inn in Bozeman on Monday evening.  Just enough time to get the dogs exercised and have a good rest before the agility trials next morning.
What a day!  There were two trials held back to back.  First dog went to the line at 8 am and we didn't finish the awards ceremony until after 6 pm. Knife was spectacular.  He won the standard excellent course in the first trial and the jumpers course in the second trial.  Knife won the high in trial award for trial #1 and Joan got a very nice chair from the club with the HIT embroidered on the back. Maggie and Colt were entered in agility too.  Colt had a couple of really nice runs that showed how well he is improving with age.
There were two obedience trials and two rally trials on Wednesday. This was Knife's second obedience competition. He and Joan won the Novice B class in the first trial with a score of 195.5.  In the second trial, Knife had a 196 going into the long sit.  It was getting very warm by this time and the dogs were in the sun.  Knife decided to relax and lay down, so he got disqualified.  It was funny, because three other dogs with high scores sat up on the long down, so the class was won by the only dog that stayed put.    Knife's combined score in agility and obedience earned him the BSCA Celebration of Life Trophy sponsored by Linda Brady.  This is a very prestigious award in the club.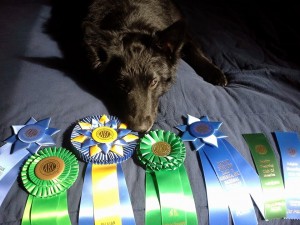 Joan and I expected a strong showing from Knife at the specialty because Knife is always strong.  We weren't so sure about Heart because she hasn't always done well on long-distance trips.  But we needn't have worried.  Heart was a happy little traveler the whole week.  This was her first rally trial.  It was particularly challenging because rally and obedience were run simultaneously in different rings.  So it turned out that Joan would have to run from the obedience ring, hand Knife off to me, run to the van to get Heart and immediately run into the rally ring without a warmup.  Joan was discombobulated and got lost in the first trial, but she and Heart still won first place.  They earned a perfect score and first place in the second trial!
Knife received a lot of attention just because he looked so different than every other dog at the specialty.  Some people asked me if he was a black Malinois, which isn't too far from the truth.  I overheard a couple of people speculating that he was probably a mixed breed. Most of the BSCA folks have never seen a Groenendael from working lines, so it was worth the long trip just to educate the membership about these type of dogs.
Maggie and Blaede were entered in the amateur handler class in the conformation show on Thursday. Blaede is developing into a really handsome dog and Maggie has learned to present him very well.  He earned second in his class which is a nice achievement considering the competition at a national specialty.  Good work Maggie!
We said goodbye to Bozeman on Thursday morning and headed home.  No matter how many times we travel through the Columbia River
Gorge we never get bored with that landscape.  The park at Cascade Locks is the perfect place for a short walk along the river. We were welcomed home by Rocky and Sharpy by 10 that evening.  A wonderful trip!