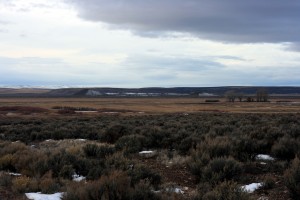 A few words about my visit to the USFWS Malheur Wildlife Refuge yesterday. Joan and I started visiting Malheur and nearby Steens Mountain soon after we moved to Oregon almost 30 years ago. We and many of our friends believe this area is one of the most beautiful places in the state. For more than a 100 years, much of Malheur Wildlife Refuge has been in public ownership and dedicated to conservation purposes. So when a gang of out-of-state extremists invaded the Refuge, we and many other Oregonians get defensive.
Oregon Public Broadcasting Coverage of the Malheur Insurrection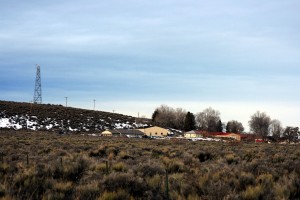 Yesterday at dawn the 180,000 acre refuge was almost completely desolate of human presence. The militants only hold a couple of acres of ground and so the land continues to serve its most important function, providing habitat for more than 300 species of birds and a wide range of other wildlife. But its a shame that the public is prevented from enjoying the place because of the actions of these thugs.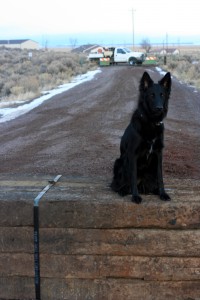 I first stopped at one of the rear entrances into the headquarters area yesterday. The driveway was barricaded and guarded by a single man. I got Lark out out of the SUV and we walked as far as the first barrier where I posed her for pictures. The sentry said hi and asked if he could help me. I said no, we're fine. I spent a few minutes with Lark doing obedience exercises in front of the barricade, then loaded Lark into the SUV and headed back toward the main entrance. A moment later, an old guy on a horse comes cantering down the road toward me. At about 100 ft away, he attempts to turn sideways in the road to block me. But his horse, swerves and lunges, almost throwing the guy off. His hat goes one way and his cell phone flies another. The guy was shaken, but trying his damnedest to hold on to his dignity. His name was Dwayne (or Dwight?) and he also asked if he could help me. I asked if I could help him. He said his horse is always a little frisky in the morning. I refrained from saying that maybe maybe he needed some more lessons riding a horse. He dismounted and asked if I would hold off driving ahead until he and his horse could pass behind me. Before I left, he warned me to be careful around headquarters. His words were "there are a lot of scared kids with guns up there".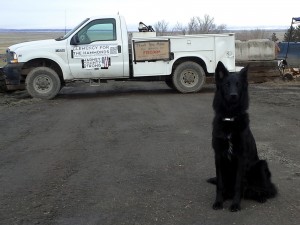 A couple minutes later Lark and I visited the main entrance to HQ. There was a guy getting out of a black Cadillac Escalade and he walked past the roadblock to a few others sitting around a camp fire. A young man asked if I wanted to come over to warm up at the fire, an offer which I declined. I don't care how hospitable these guys were towards me. They were stalking and harassing BLM and USFWS employees. Men and women who actually live and work in that community. I didn't want to be friendly with any of these extremists. I posed Lark for more photos and we did some more obedience exercises in front of the roadblock. It was just me, Lark, the militants. No media and no law enforcement presence in sight. I don't know what the guys around the campfire were thinking, but I figured there must be at least 1 or 2 leaders in the gang that were thinking about public perception to their occupation. So when tourists show up at the barricades to pose their puppy for pics and treat the guys with guns as nothing more than interesting background, I have just a glimmer of hope that those leaders will start to wonder about their public image.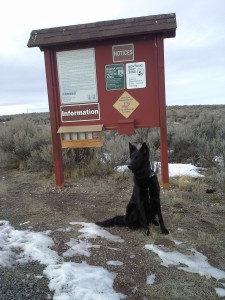 There are good reasons to be concerned at how the US attorney treated the Hammonds. It was this issue that gave the Bundy's the pretense for coming to Oregon. The case has enraged a lot of folks in eastern Oregon and it could have been handled by the US Attorneys office a whole lot better than it was. The Bundy's and their stooges have come from out of state to assist the citizen's of Harney County gain local control of public lands. Apparently the militants can't see the illogic of their arguments so clear to the almost everyone else. I came away thinking that maybe the FBI is doing the best thing by letting these nut jobs stew by themselves out there. No need to make martyrs for the other crazys that want to privatize public lands.