Chilko was our first purebred Belgian Sheepdog. She was an exceptional tracker, earned high-in-trial in obedience competition, worked on professional wildlife detection projects, helped us with sheep chores, and had fun in agility. She always had a big smile for humans and dogs alike. Chilko showed us how versatile Belgian sheepdogs can be and she inspired us to become breeders.
To celebrate Chilko's life, we offer an annual award named in her honor and announced on the birthday of our A-Litter (Feb 12). Each year we select one dog bred under the Obsidian kennel name to represent our hopes for generations of accomplished, healthy dogs to come.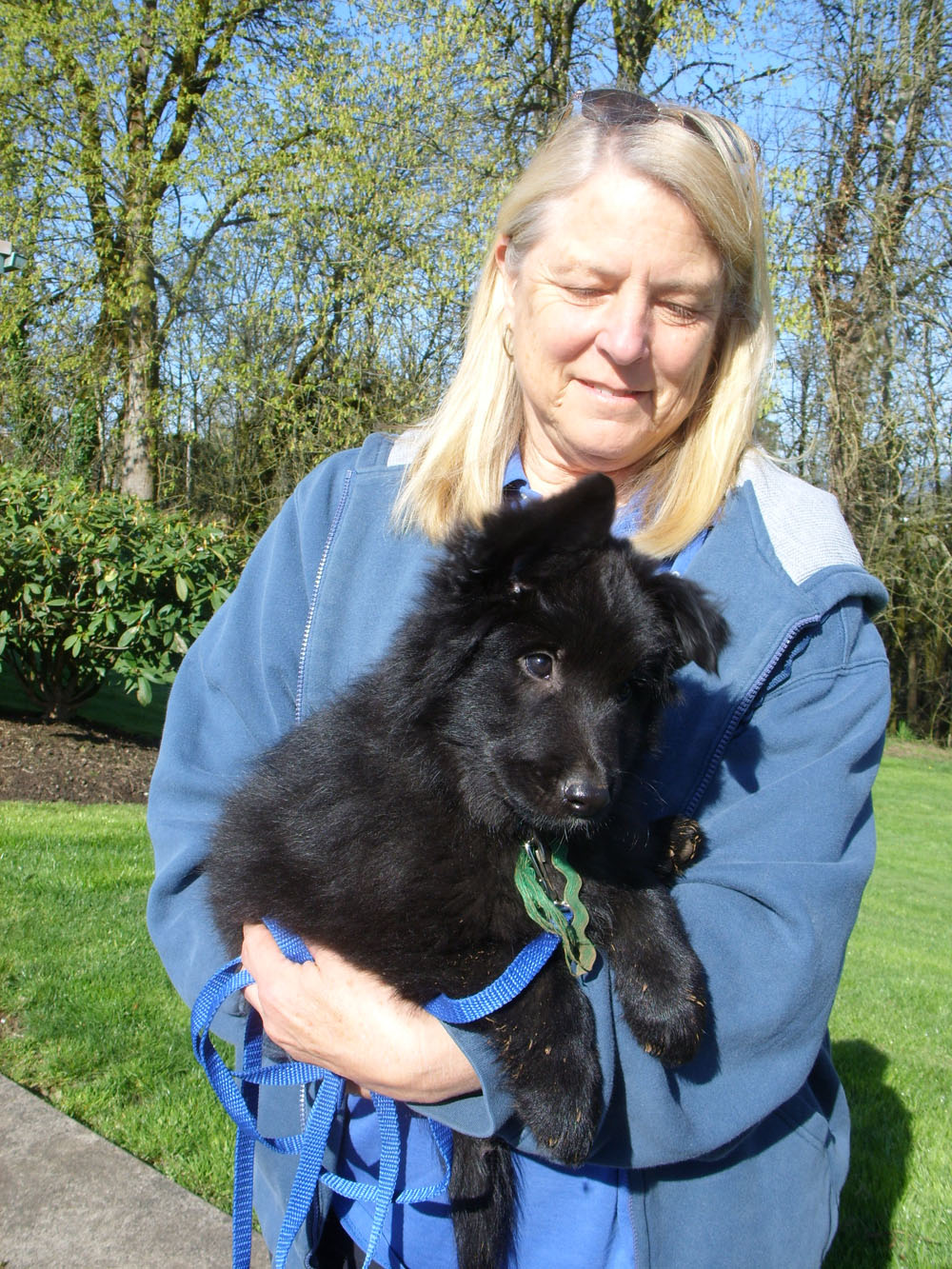 Joan and I are very pleased to announce that the recipient of 2013 Spirit of Chilko Award is Glace Noire Sabre D'Obsidian BN RN HT CGC, just Sabre to his friends. Sabre is owned by Connie and Rick Batsford of Vacaville, CA who bred Belgian sheepdogs under the kennel name Glace Noire. Our own Rocky is from Connie and Rick and he's another one of the great dogs whose qualities we hope to be able to produce from our own breeding program. Sabre is already competing in obedience and rally, tested in AKC herding, and is training for agility and tracking. At home, Sabre is something of a service dog, whose strong shoulder's provide Connie some stability as she climbs stairs (Two knee replacements and Connie is still doing dog sports!). Sabre also patrols the Batsford yard doing his best to keep deer from eating all the roses. Sabre really demonstrates how versatile our breed is. Connie says of Sabre "Everyone loves his exuberance and flash when working. Like others of his litter, he loves to be busy and he's fun to work because of it. He's a great ambassador for the breed."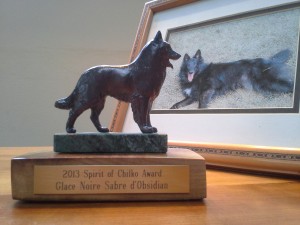 Thank you Connie and Rick for all the time you put into training Sabre and showing others in the canine community what a fantastic breed we have!
Sabre will be receiving a cast figure of a Belgian sheepdog by Czech craftsman Milan Sorm with Sabre's name engraved on the base. More information about the Spirit of Chilko Award can be found in the files section on the Obsidian Yahoo site.
Dave and Joan