One of the best things about being a breeder is the new friends we've made through the puppies we sell.  Stacy Hebert for example.  Joan met Stacy at Wonderdogs in Philomath, where she was showing up at classes without a dog. Stacy was actually going to socialization and obedience classes before she even owned a dog!  Not many prospective dog owners demonstrate that level of preparedness.  So we were very happy when Stacy showed an interest in our A-Litter puppies in 2011.  Stacy and her husband Brian came to visit our home while all the pups were still here.  First they had to get past our boisterous, adult Belgians.  Brian wasn't entirely comfortable around large dogs at that time and his previous experience with Belgians wasn't positive. So it took some nerve on Brian's part to push past Rocky and Rogue.  But all was quiet in a few minutes and we could turn our attention to the puppies.  It was a fun visit and although the pups were almost irresistible, Stacy and Brian needed some time to think about buying a pup. This would be the first time Brian lived with a dog and they were treating the purchase like the big commitment it really is.  Good for them we said.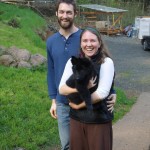 The rest of the A-Litter were moving off to their new homes and we still hadn't heard back from Stacy.  Light Green Boy, one of the pups that we thought would be a good match for Stacy and Brian now was the only pup not yet reserved.  We got a call one Sunday morning from a couple that was visiting the Oregon Coast from Utah and came across our website.  They asked if they could stop by that afternoon and visit the puppies.  Sure we said. They were looking for a companion dog and after spending some time with our pups, asked to purchase Light Green Boy.  We talked at length, they filled out a questionnaire, and met our approval.  It might sound impulsive for a couple to decide to purchase a puppy while on a long, sight-seeing trip.  But Belgian sheepdog litters are so uncommon that most prospective owners have to travel hundreds, sometime thousands, of miles to get a pup.  So this couple saw an opportunity to interact with the pups and their mother before deciding to purchase.  I was sitting at our kitchen table reviewing the terms of our contract with the couple when the phone rang.  Joan answered and left the room.  A minute later, Joan was frantically signalling me from behind the backs of the couple, mouthing something that I failed to comprehend.  I was totally confused and now the couple were wondering whats going on.  Finally Joan says aloud in a slow, firm tone, "We need to talk right now."  And so I followed her outside.  The call was from Stacy.  She and Brian had talked and talked and finally decided they really wanted Light Green Boy.  Joan was absolutely adamant that she wanted the pup to go to Stacy and Brian. But I had already told the Utah couple that Light Green Boy could go home with them.  It was an ethical dilemma for novice breeders.  But then we asked ourselves, "What's best for Light Green Boy?"  The nice couple from Utah that we just met two hours earlier…or the young couple from Corvallis that Joan met repeatedly at training classes, wanted to do obedience, and would probably try a lot of new activities with their dog?  It was a very awkward farewell to the couple from Utah.
Light Green Boy is now Obsidian's 'Alala ('Alala is also known as the Hawaiian crow), but friends call him Luca.  Stacy and Brian moved to Spokane, where Stacy is a part-time training instructor at Diamonds in the Ruff.  Now she teaches others how to raise well-mannered puppies.  Luca and Stacy are also training for competition agility and they came back here a couple of weeks ago for a very intense, three day mini-agility camp with Joan and I.  Stacy's handling skills are excellent considering Luca is her first agility dog. They can look forward to having a lot of success together.  The long weekend also gave us a chance to do a thorough assessment of Luca's conformation at two years.  As dog owners, each one of our companions have our unconditional love. But as breeders, we need to be looking at every pup we produce with a hard, critical eye.  What are the strengths in each dog we want to carry forward in our breeding program?  What are physical or behavioral traits we wish to improve on?  Only by developing long-lasting friendships with our puppy buyers do we get a chance for regular reports about the Obsidian pups as they grow up.  None of the A-Litter pups conform perfectly to the Belgian Sheepdog standard, but we couldn't be happier with the pups that Heart and Gusto produced.  Finding good homes for each puppy was the one thing about breeding that scared us the most before the A-Litter.  Now we think of each new litter as another chance to make some new friends.  It makes all the work of breeding well worth the effort.
Dave