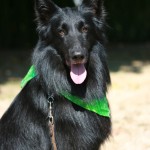 Last Sunday we had the chance to visit with seven of Heart's offspring at the Obsidian Kennel reunion held at the Rogue Farm in Independence, Oregon.  Pack members traveled back to the Willamette Valley from California, Washington, Idaho, and Montana. The Obsidian offspring in attendance were:
Obsidian's Atlas (Flag)
Obsidian's Aye of the Hurricane (Storm)
Glace Noire Sabre d'Obsidian (Sabre)
Obsidian's To Build a Fire (Colt)
Legendary Broadsword of Obsidian (Kupo)
Obsidian's Black Rock Buccaneer (Blaede).
and of course our own Sharpy (Obsidian's Accipiter).  Sota, sire of the Obsidian B-Litter, also stopped by to be admired by the gathering.  The guest of honor was Heart herself.
The center of activity was the shaded deck behind the farmhouse.  From there is was an easy walk to the Willamette River where the dogs could cool, and it was even a shorter distance to the tasting room where we could refill a growler with Rogue's Brutal Bitter.
8. Which of the following is considered a fault under the AKC standard for the Belgian sheepdog?
a. 25 inches tall for a male
b. Chest broad, not deep
c. Eyes: brown, preferably dark brown
d. tends to single track on a fast gait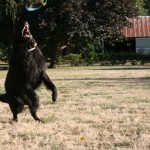 After a picnic lunch,  I subjected the gang to a game of Belgian trivia with 18 questions about breed history, the AKC Belgian sheepdog standard, performance event rules, and the Obsidian family.  I thought I'd stump everybody when I asked them to name the sire or dam of the earliest Groenendael foundation couple,  but Connie Batsford had been waiting for that one.  "Petite", said Connie.  Good Girl!  Trivia was followed game in which we blindfolded one of the group, who was then presented with three different dogs and they had to choose which was their own.  Those A-Litter boys look like they were made with a cookie-cutter, so it was definitely not as easy as it sounds.  Joan, hands down, proved herself the champion by correctly identifying all three dogs, only one of which she owns.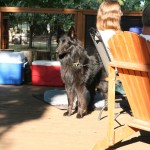 It was wonderful to see how nicely the A-Litter has matured at three years old.  They are a very handsome pack of Belgians.  Kupo and Blaede from the B-Litter show so much promise.  We know they can look forward to success in the show ring or the performance arena. They are all lucky dogs to have the owners that they do!  Thank you Connie, Wendy, Maggie and Michael, Sean and Lauren, Heidi and Jeff, and the other owners who couldn't attend for the rich lives you are providing these dogs.